Architectural Handrails, Balustrades, and Castings
Custom extruded brass handrails and steel or stainless shaped handrails are used for new construction as well as remodeling and renovation of historic buildings. They are custom made using our premium quality architectural metal extrusions. These handrails can be manufactured into solid or hollow shapes.
Our brass, steel, and stainless handrail shapes can help you bring elegance and sophistication with excellence and strength. At Deeco our extruded handrails are utilized for many applications including arenas, academies, businesses, industries, yachts, and boats as well as residential homes. Architects and builders around the world have chosen Deeco Metals time and time again for their extruded handrails or architectural railing system needs.
Custom Handrails & Balustrades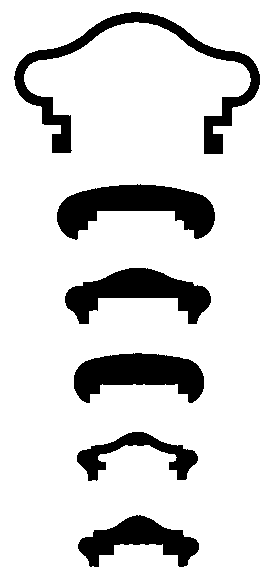 We can produce nearly any standard or custom handrail shape or molding you require as well as all standard brass, steel and stainless handrail shapes and moldings, some of which include:
Round and Flat Cap handrails
Guard handrails in all shapes
Lamb Tongue shape
Volutes (Spiral) shape
Nosingsf
Brackets for handrails
Mounting bars or shapes to accommodate handrails
Glass rail molding, glass channels, and glass mounting shapes
Shoe molding shapes
All customer shape top handrails
Slotted cap shapes
Wall bracket shapes and mounting bracket shapes can also be extruded, cast, forged, fabricated and machined to suit your requirements. (Most of our materials are suitable for some bending)
Historic Building Renovations & Restorations
Many people appreciate the design and detail that were put into historic buildings. Oftentimes these historic buildings have seen better days and many don't reflect the appearance that they deserve.
Due to this, many historic buildings are presently undergoing renovations to bring them back to their luster of years past. This may seem like an easy task, but the smallest details are sometimes the ones that are the most difficult to reproduce. Deeco can help with this, just send us a hand sketch or preferably a small cut sample of the existing shape and we will replicate it for you.
New Construction
Within the realm of modern architecture, architects occasionally think out of the box and draw up very contemporary and exciting brass, steel and stainless handrail shape designs, many of which are difficult to manufacture. 
This is where we come in. Deeco Metals will work with you, the contractor or their engineers to develop ways to produce these unique designs.  We have the skills to match the architectural style of any new building or historic building or period piece.  
Metals for Custom Handrails
We use various metals for the manufacturing and customization of our handrails, some of which include:
Deeco Architectural Bronze - polishes to a rich gold luster and has good workability
Deeco Nickel Silver - white bronze (polishes to a lovely warm silvery color unlike the cold sterile stainless steel feel)
Deeco Pink Bronze - polishes to a beautiful pink hue - similar to a silicon bronze color.
Stainless - simple rail shapes often used in outdoor settings with a polished or brushed finish. Will preserve finish without tarnishing.
Steel - Simple Raile Shapes. Less expensive than stainless steel. Can be painted or coated.
Copper - simple custom shapes. Often used for custom finishes.  
The above alloys can match all your color requirements and can be enhanced with a patented acid process as well or brushed finish for stainless or painted in the case of steel.