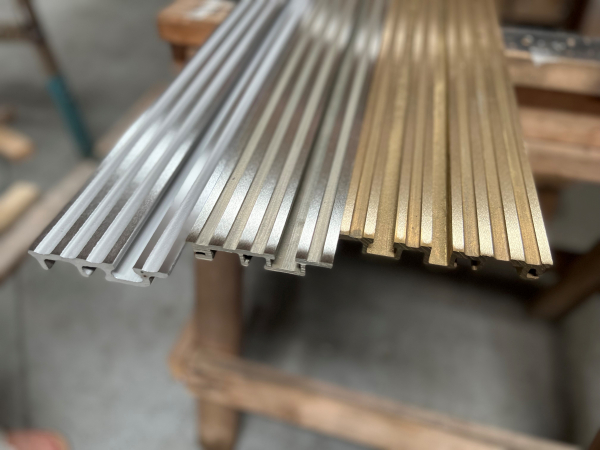 Elevator Sills & Components
Whether you are searching for custom bronze, brass, nickel silver, or stainless steel elevator sills and components, Deeco Metals has you covered. We offer high quality elevator door sills, cab, landing, and elevator hoist ways in the materials and sizes you need. Our products provide the elegance, premium quality, craftsmanship and affordability to take your project to the next level of superiority and reliability.
At Deeco, we provide unparalleled quality and expertise in everything we do. Our elevator sills and components are manufactured from only the finest grade materials and produced to your exact project specifications. If you have questions regarding our brass, bronze, nickel silver, or stainless steel elevator sills and components, give us a call at 800-272-7784.
Which Metal is Right for Your Elevator Hoist Way?
Whether you are considering stainless steel or an architectural bronze, brass, and nickel silver elevator sill, there are several factors that should be weighed before deciding what is best for your project. Both types of metals offer their own beneficial qualities. Depending on your project's exact specifications, one may be more favorable than another.
Custom Nickel Silver Elevator Sills & Elevator Components
As one of the top nickel silver and brass elevator sill suppliers in the industry, Deeco Metals extrudes elevator sills and elevator components from only the finest and most exceptional quality brass and nickel silver materials on the planet. Our nickel-silver and brass elevator sills provide an elegant look, feel and function that your customers will appreciate. Bronze, brass, and nickel silver elevator sills and other elevator components provide the following advantages:
Aesthetically pleasing
Higher yield strength than stainless steel
Greater Rockwell Hardness than stainless
Less dense and lighter than stainless
Superior lubricity provides lower wear on components
Easily joined at a lower temperature
Polishes extremely easily
Nickel Silver Material for Your Elevator Threshold Project
Custom nickel silver extruded elevator sills often look very similar to stainless steel, but with a warmer feel and a yellowish tint and glow. In addition, nickel silver is machinable, harder and more corrosion-resistant than bronze. It also exhibits high electrical resistance, making it an exceptional choice for elevator door sill applications.
Custom Architectural Brass Bronze Elevator Sills & Components
The utilization of brass bronze extruded profiles for your elevator sills and other elevator components can add dimensional durability, improved aesthetics and significant cost savings over other materials. Bronze and brass elevator car sills and components are extruded from architectural bronze and brass extrusions and provide numerous high-level benefits including:
Does not require additional machining
Inexpensive tooling costs
Multiple parts can be formed into a single extrusion
Minimal production lead times
Premium quality control standards
Short run capabilities
Raw material savings
Elevator Door Sills in Extruded Stainless Steel
Our extruded stainless steel elevator thresholds, hoist way sills, and elevator car sills provide a wide range of benefits that cannot be matched by any other manufacturing methods. When it comes to providing the best quality products, in-spec materials and the extrusion process, Deeco Metals provides winning solutions for your elevator components with a wide range of advantages that include:
Industry Standard on our designs
Premium quality stainless steel
Advanced surface quality
Good corrosion resistance
Very cost-effective solutions
Contact Us for Cab and Hoistway Sills and Extensions 
For more information regarding our custom elevator sill and component options, get in touch with our sales team. Or check out our photo gallery for just a few examples of the high quality metal sourcing we can provide for your elevator project. You can also email us at sales@deecometals.com to further discuss your elevator sills needs.